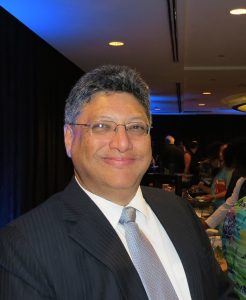 Presentation by Francis M. Lewis, Programme Director On the Regional launch of the Anthony N, Sabga Caribbean Awards for Excellence Programme May, 2006
SALUTATIONS
Members of the Media, Colleagues at the Head Table and Friends  –  Good morning.  Greetings on behalf of the ANSA McAL Foundation.  Thank you for joining us at this media briefing on our progress on this Programme, following an initial presentation made last October
INTRODUCTION
Permit me to start with a question – Are you familiar with the aphorism "a prophet has no honour in his, or her, own home"?  Please, could you do me a favour – by a quick show of hands – "Do you generally believe this to be true, in the Caribbean?"  Thank you…..  Unfortunately, when I ask that question to people and groups around the Region, almost always, the answer is "Yes!"  I wonder, as you do,"Why do our people believe this to be true?"  Is it because until "big people, from outside" commend us, we seem to be not sure enough of ourselves and our own judgement, to honour our own with confidence?
If countries and communities are like people, independence does not confer maturity.  One of the gifts of maturity is discernment – the ability to know better from good, to have a sense of value, and critically to develop a quiet confidence in one's own judgement.  "Selfhood", and having a unique sense of identity is a hallmark of maturity.  The reasons for these questions and reflections, I hope, will become apparent in a few minutes.
As our MC indicated, I am the Programme Director for the Anthony N. Sabga Caribbean Awards for Excellence, a new programme of the ANSA McAL Foundation.  In time, we believe this will become the Region's leading Recognition Programme.  In many ways, it is groundbreaking.  It is the first Regional, non-governmental, Recognition Programme of its type.  It offers both appreciation and tangible, significant benefits to the Laureates.  It is one of the more noteworthy philanthropic initiatives by a Caribbean organization in recent times.
This Programme represents a coming-of-age, in which we Caribbean People recognize our own.  It celebrates the excellence and the potential of Caribbean people, working for the benefit of the Region, our home.  The goal of the Caribbean Awards for Excellence Programme is to recognize significant Caribbean achievement, to encourage and to support the pursuit of excellence by Caribbean persons, for the benefit of the Region.  The ANSA McAl Foundation is convinced that talent needs to be sought out, brought to light and encouraged.  It is in this context that these Awards were conceived.
The Foundation introduce the Programme last October.  In 2006, the inaugural year, we anticipate three Awards will be made, in September.  The selection process is currently underway.  Let me tell you a little about the Programme.
THE AWARDS
Three (3) awards will be made every two (2) years, in the first instance.  Each Laureate will receive:
The Anthony N. Sabga Caribbean Award for Excellence Gold Medal and Citation  –  To recognize and commending their achievements.
TT$500,000 (approx. US$80,000) per Laureate  –  To support their work and professional development, and help them scale their next level of performance.
The opportunity for visibility, encouragement and support across the Caribbean and beyond.
It is expected that increased visibility in combination with the financial component of the Award will help increase the scope of their work and give impetus to their continued efforts.
The frequency of the Awards, the number of Awards and the monetary value of the Awards may be modified by the Foundation, in future years.
COUNTRIES COVERED
Candidates from all of the Countries of the Caribbean Community (CARICOM) will be considered for selection.
We shall launch the inaugural Programme in May 2006 in Jamaica, Grenada, Barbados, Guyana, Trinidad & Tobago,  St Kitts & Nevis.
The Foundation anticipates expanding the Programme in future years, to bring greater focus to The Bahamas, Belize, Suriname and Haiti, and eventually to the CARICOM Associate Member States of Anguilla, Bermuda, British Virgin Islands, Montserrat, The Cayman Islands and the Turks & Caicos Islands.
AWARDS CATEGORIES
In 2006, Awards will be given to individuals.  In future years, the Foundation will decide if recognition should be extended to groups or teams.  In 2006, Awards will be given to three persons, one each in the following Categories:
Arts & Letters  –  This includes those who work in the visual arts (painting, sculpture, film, etc.), the performing arts (music, dance and theatre, etc.), composers, writers and poets, and those who work to make it possible for art to be created (directors, producers, etc.).
Science & Technology  –  This includes those who do research and experimental scientific work in the natural, physical, earth, life and bio-sciences, as well as applied science, and those who use the output of science to create technology to address practical human and community needs.
Public & Civic Contributions  –  This includes those who directly work to improve their communities and the lives of Caribbean people.  It includes those who have pioneered NGOs  and people-centered organization that benefit their community, country and Region, and better the quality of life for Caribbean people.
The Foundation anticipates expanding the Programme in future years.  Likely additional categories may include Journalism & Media, Sport, and other Areas of Significance, as determined by the Foundation.
SELECTION CRITERIA
Four fundamental criteria will be used to select Laureates.  They must demonstrate:
A track record of consistently superior work that has demonstrated excellence, leadership and pioneership.  Their work is a benchmark and is positively referenced by others in their field.
The capacity for significant future achievement and likely to do so.  They are at a stage of life and career where the Award could help them realize their promise and potential.
Their work has had, or is likely to have, a positive impact in the Caribbean Region and benefit Caribbean people.
They are likely to be a worthy "exemplar" and be willing and available to serve as a Caribbean model of excellence, to inspire the hope and emulation of the people of the Region.
These Awards are not intended to be a "lifetime achievement awards;  they are intended to support and spur greater excellence.  In using these criteria, the Selectors will try to identify likely leaders of the next generation, in their respective fields.  While it is essential that the Awardees they have already demonstrated excellence, it is critical that they have the potential to achieve even greater success in the future, with the appropriate support and encouragement.
The Programme will be inclusive in considering candidates.  Our history teaches us that being a "Caribbean Person" is not merely function of birth – it is defined by the persons contribution and involvement.  In some years, some candidates may not all be Caribbean nationals.  The critical distinction is that by their positive contribution and long-term, on-going involvement in the Region, they are widely accepted as a Caribbean person, and their work has had, or is likely to have, beneficial impact on the Region and it people.
In its commitment to help build the future by supporting the excellent work of Laureates who are still alive, the Foundation will not give Posthumous Awards.
All persons directly involved in the organization or processes of the Awards Programme are not eligible for nomination.
SELECTION  PROCESS
Laureates will be selected using a methodical, rigorous, multi-stage nomination, evaluation and selection process.
To identify eligible candidates, we shall establish five Country Nomination Committees (Country Committees)  – in Barbados, Guyana, Jamaica, Trinidad & Tobago and the OECS, the sub-region will be considered collectively and include Antigua & Barbuda, Dominica, Grenada, St Kitts & Nevis, St. Lucia and St. Vincent & the Grenadines.
It is the responsibility of each Country Committee to identify, evaluate and recommend three candidates, ideally one for each Awards category, in their country.
Selection of Nominators for the Country Committees is based on the guidance from the Regional Eminent Person Selection Panel (Regional Panel).
The process starts with a briefing by myself and the Regional Panel member from that country.  Thereafter, each Country Committee selects their Chairman and develops their search process using their knowledge of, and contacts in, their respective field.  [Regional Panel members attend the initial briefing session, but they excuse themselves from all nomination discussions, to ensure no potential conflicts of interest in the final evaluation and selection.]  We expect to establish the Country Committee in May – June.
We work with each Country Committee to support and facilitate their selection process.  We expected to complete this by July, having identified fifteen finalists.
Following this, Programme Researchers will validate the curriculum vitiate, and undertake reference checks of the fifteen finalists.
To make the final section of the three laureates, information on these finalists, together with a presentation by the Country Committee Chairmen on their recommended candidates, will be made to the Regional Panel.
Following this, the Regional Panel will deliberate and select the three Laurates for 2006.  We expected to complete this by August.
On selection, we will confirm each Awardee's willingness to accept the Award.   On acceptance, the Chairman of the Regional Panel will announce the names of the three 2006 Laureates to the media.
Our Award Ceremony will be held in October 2006.
COUNTRY NOMINATIONG COMMITTEES
Mindful of the fact that the Awards Programme would assess the work and potential of some of the Caribbean's highest performers, the ANSA McAL Foundation was adamant on two scores it deemed critical to the Awards' integrity.  The first was to establish a meticulous, rigorous, fair process.  The second, to appoint persons of judgement and integrity, who are themselves noteworthy in their respective fields to oversee the process.
Critical to the process are the selection committees, with first stage selection is done by five Country Nominating Committees, and the final selection by the Regional Eminent Persons Selection Panel.
All Selectors are expected to bring to the process a broad Caribbean perspective, in proposing and considering candidates, not only for their country, but also from the wider CARICOM Caribbean community.  They must not be narrow or parochial.
The Country Committee must be representative of their respective country and the Region.  Country Committees will be multi-disciplinary across the various award categories.  We require these Committees to present a reasonable balance of age, experience, gender and ethnicity, reflecting the diversity of their country and Region.
Selectors will have a well-developed sense of excellence and standards.  They will be known and respected in their country and field of expertise.  They may often be seen as "elders" in their respective areas of competence and their opinions/recommendations are appreciated and credible among their peers.  They are well regarded for their judgement and discernment.  Typically, they are strongly networked and have a keen awareness of the work being done by likely candidates.  By virtue of their work, contribution, network and the regard with which they are held, they may be key influencers and opinion makers/shapers in their country and the wider Region.
The names of the Country Committee members will be held confidentially until completion of the selection process, so they may proceed with their work without undue interference or influence.  On completion of the selection process, these names will be made public.
REGIONAL EMINENT PERSON SELECTION PANEL
The 2006 Regional Eminent Person Selection Panel was appointed by the ANSA McAL Foundation and presented to the media in Trinidad, last October, at the introduction of the Programme.  This Panel constitute some of the Region's most acclaimed and respected figures from various disciplines and fields.
The Regional Panel is an autonomous Committee responsible for the governance of the 2006 Programme and for the final selection of Award recipients.  In respect of the Awards, the decision of the Panel shall be final and without contest.
The 2006 Regional Eminent Person Selection Panel has nine members.  They are:
Sir Ellis Clarke, TC, GCB, GCMG (Chairman)
Dr. Wahid Ali, TC
Mr. Justice Christopher Blackman, GCM
Mr. Christopher Bovell, CD
Mrs. Judy Chang, CMT
Sr. Paul D'Ornellas, MOM
Mr. Michael Mansoor
Sir Shridath Ramphal
Sir K. Dwight Venner
(Brief profiles of each  REGIONAL PANEL Member is appended)
2006 COMMUNICATION PLAN
The inaugural programme will be launched in May, via media briefings.  Following this, two limited advertorial press campaigns shall be run.   The first one in May, is intended to inform the public about the Awards.  [It will give the background to the Programme; its purpose and objectives; the Countries and Categories covered; the selection criteria and evaluation process; the key milestones and schedule.]
The second information campaign will run in July – September, in which we shall present the Nominators, announce the 2006 Laureates and describe their work; and celebrate this year's results.
As part of our contribution to building a deeper understanding of what excellence and selfhood mean, we will commission essays and articles from respected Caribbean persons "On Excellence in the Caribbean".  This will be a series of 10 – 12 weekly articles, of about 1,000 words, written in a readable, engaging style. We anticipate this series will be published by the leading newspaper in each country.  Included with this series will be interviews with the Laureates and their reflections on their work.
We are developing a Programme Website which we expect to launch in June.  The site will be updated on a periodic basis.  Our website address will be "ansa.caribbeanawards.com".
We are planning a live broadcast of the Laureate Announcement (July/August) and the Awards' Event (October).  Additionally, a short video featuring the Laureates and their work, and the Awards Ceremony will be produced.  This will be made available to TV broadcasters across the Region.
CONCLUSION
And so colleagues, this has been an overview of the Anthony N. Sabga Caribbean Awards for Excellence Programme.
Remember the questions I had asked at the start?   The needs of our Region are many.  We must nurture the spirit, as well as address the practical concerns of life and living.
St. Augustine in talking about glory, described it as "clear recognition, with praise".  This is what we are trying to do – offer clear recognition with praise…. and very tangible support.
Recognition from outside will always be welcome, but our prophets must have a home.
Our basic mission is to publicly recognize, reward and thereby support and encourage excellence in human endeavours, that benefits and uplifts the Caribbean community.
We believe that a hallmark of our maturity and selfhood is reflected in a quiet confidence to recognize and honour our people of excellence and invest in their potential.  With Programmes like this, we take responsibility for our own, as a Region.
Media colleagues we hope we can count on your support to bring this Recognition Programme into being.
Thank you for allowing me to address you and I will be happy to take any questions.